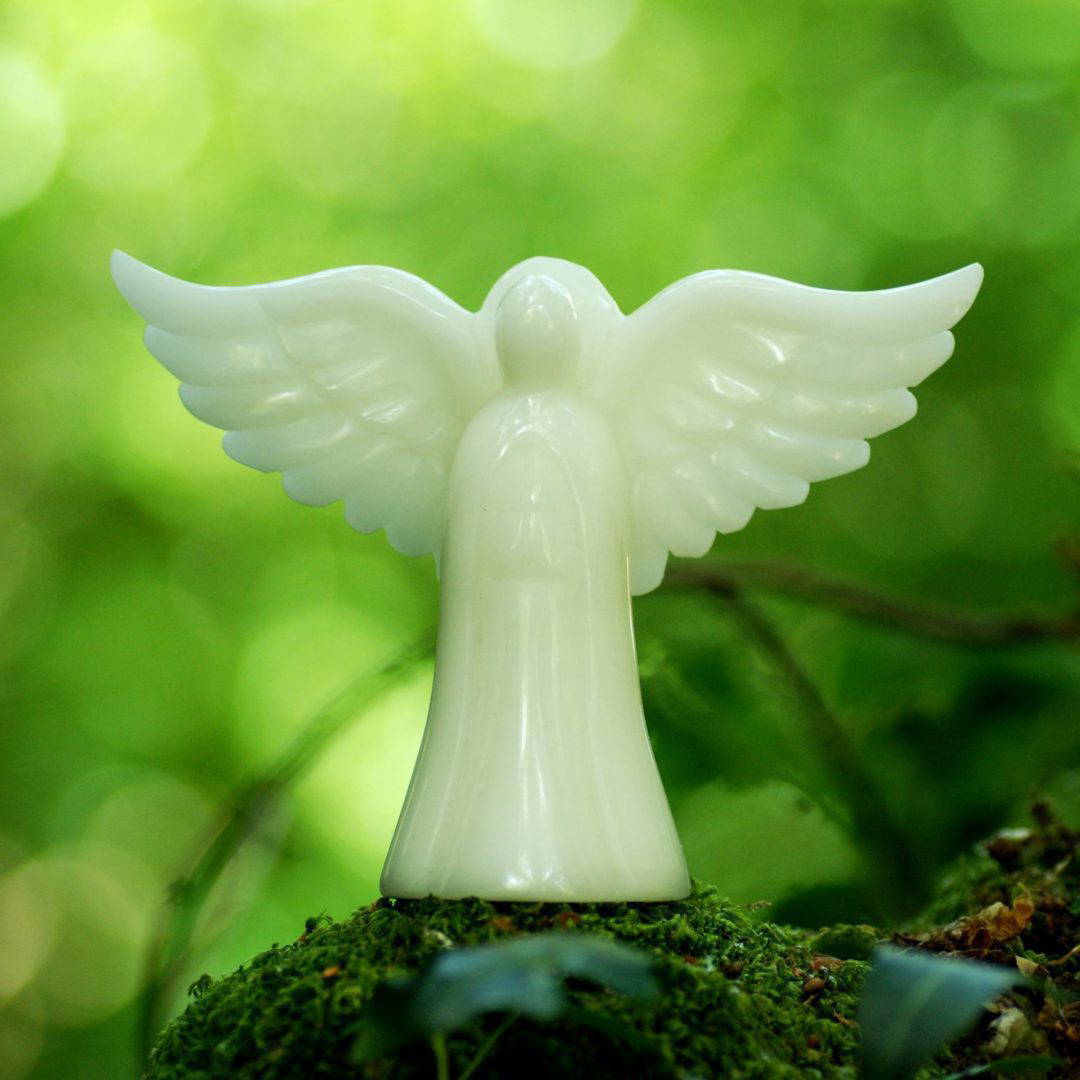 https://www.youtube.com/embed/kSkhN1yBmnk
Crystals and Crystal Angels have been used for centuries as a form of healing and protection – but did you know that they can also bring good luck? Our beautiful collection of Crystal Angels available to buy online includes a wide range of colours and types. With so many different products to choose from it can be hard deciding which ones are best suited for your needs…
We at Happy Glastonbury have some of the very best carved Crystal Angels available.  From exquisite healing room/ home decor carvings to pocket travel angels, we have a huge selection to suit every requirement. Angels carved from Crystals and Minerals by expert lapidarist bring out the very best qualities and energies of the crystals, with no two ever the same.
Read More
Angels carved from Crystal are so much more than this, however. Each Crystal or Mineral Angel is imbued with corresponding Angel energies. Just by being handled and brought into being as a Carved Angel, the programming has begun. Even with the same Crystal type, the Angel energy can be very different.
When selecting the right Crystal Angel for you, try and clear your mind and tune in to your inner voice. Listen for guidance and be led by your heart. A feeling within will let you know the right Crystal Angel for you. Do not let your intellect interrupt this process. Disengage the analytical voice and trust your spirit to guide you.
Here is a list of other types of carved Crystal Angels we keep in stock and their properties. We have included an example of the Archangel that can be matched to the Crystal. This is ours, and our customers' experience of them yours might be different. Be guided by your light.
Rose Quartz Angel; has a softness and gentleness that makes it perfect for children and babies. It can be placed in the nursery or bedroom, aiding the energies to be calm, balanced and soothing.
For adults and children alike, Rose Quartz Angels are used for healing emotions, calming over-sensitivity and stabilising the stress held in the DNA strands. Rose Quartz is known as the 'inner peace' stone and is widely believed to emit a calming, cooling energy that works on all the chakras by gently removing negativity and reinstating the calm, gentle force of self-love. It restores tranquillity and clarity after times of chaos or crisis.
Rose Quartz Crystal Angels carry the energy of Jophiel, and just like the pure beauty of Rose Quartz, Jopheil's name means 'beauty of God'. Archangel Jopheil brings positivity to one's life. She helps us find the beauty in all things.  Jopheil brings love and beauty into our hearts and allows us to see the truth in all situations.
Amethyst Crystal Angels; These angles have the energy of communication. They aid psychic experiences and open the third eye. Sleeping with Amethyst can promote intuitive dreams and astral travel. Meditating with Amethyst Crystal Angels is a profound way of asking and receiving answers, communicating with your spirit guides and channelling healing and distant healing.
Amethyst Crystal Angels carry the energy of Archangel Chamuel, whose name means 'the one who sees God'. Chamuel is the bringer of peace to our world, and his duties are to protect the earth from negativity and the lower spiritual negative vibrations. Chamuel can move between realms and frequencies, easily appearing to many in visions and dreams. His wisdom is an all-knowing vision of God's plan. Call on Chamuel to bring insight, love, purpose and healing to any situation.
Clear Quartz Crystal Angels; Clear Quartz is an energiser, and working with Clear Quartz Crystal Angels raises the user's vibration and opens up the channels for healing and communication. Natural Quartz Crystal is the true alchemist. Its transformation is in its slow, steady pulse that is in tune with the beat of Mother Earth. Those drawn to Quartz Crystal Angels are sensitive and empathic; they will be able to attune and gain access to the libraries within them. All Quartz has a memory, some greater than others. Many can guide you to accessing the akashic records.
Clear Quartz Angels carry the energy of Archangel Michael, protector and defender of all that is good and aid those wishing to find their purpose and life path.
Hematoid Quartz Angel; These are slightly rare to come by. Hematoid quartz is a combination of quartz and hematite, which contains the properties of both of these crystals. Combined, the amplification power of clear quartz brings even more power to the stabilising and grounding effects of hematite alone, making this combination perfect for those wanting to stabilise and bring balance to their mind, body and soul. The red colour of the hematite streaking through the quartz is stunning and mysterious.
Hematoid Quartz carries the energy of Archangel Metatron, full of patience, power, wisdom and divine knowledge.
Golden Healer Quartz Angels; These have the same chemical makeup as Hematoid Quartz, only they are generally denser and more golden/yellow/brown in colour. It is the iron oxides in the mineral that change the colour. Iron oxide is composed of iron and oxygen, and we use it in industry as a pigment for ceramics, glass, textiles etc.; Golden Healer Quartz Angels have the energy of Hematoid Quartz Angels. They have a high vibration and pulse through the body, clearing blockages and stagnant energy.
Golden Healer Quartz carries the energy of Archangel Metatron, full of patience, power, wisdom and divine knowledge. Of Archangel Haniel, the healer of relationships within families. Haniel is the gentle archangel that listens, sends healing and supports us through our troubles.
Lepidolite and Pink Tourmaline Crystal Angels; These are very new to our range, and we adore them. Just arrived in time for our Goddess season here in Glastonbury. These remarkable carved angels are for those who struggle with anxiety, stress and loneliness. For those feeling lost, persecuted or misunderstood. And for those seeking their place to stand, to shine and express their true self. The pink tourmaline protects the heart, and the lepidolite lifts the spirits—these Crystal Angels sparkle with tiny flecks of mica and pale pink flashes of Pink Tourmaline.
Working with a Lepidolite and Pink Tourmaline Angel will feel like the arms of the Madonna or Mary Magdelene are placed around you, nurturing and supporting you.
Lepidolite and Pink Tourmaline Angels carry the energies of the Madonna and Mary Magdalene. The combination of the minerals and these two women considered holiest of the Divine Feminine will protect, heal and hold one's energy. They are the protectors of the Divine Feminine, children and 'the way'.
'The way' is the spiritual journey that brings us closer to the Divine.
Dendritic Opal Crystal Angels; The purity, virtuousness and innocence of Dendritic Opal is the perfect Mineral for an Angel of peace. These angel carvings are full of magic and mystery. They will aid those searching for truth and answers. They will bring inner peace, hope, serenity and knowing. Perfect for supporting any spiritual journey, for use with meditation and prayer.
Dendritic Opal Crystal Angels carry the energy of archangel Jeramiel (Ramiel), who is responsible for Divine visions, hope and guarding travellers on their way, not only on their earth path but also across to heaven. Jeramiel is often depicted carrying a staff representing his heavenly duties.
White Jade Crystal Angels; These are genuinely magnificent carvings. White Jade is a form of Nephrite Jade that is known as Tremolite. White Jade has been used for healing for centuries and holds higher energy frequencies that connect to the angelic realms. These higher vibrational energies allow communication with the angles and our guides. The mineral has a magical quality in that it shields any communication with the spirit world, making it impossible for negative energies to intercept the connection. Use white Jade also to protect your aura and work/living space.
White Jade Crystal Angels carry the energy of  Archangel Raphael, who answers prayers, bestows healing and helps those who seek to hear, feel or see their visions. Archangel Raphael protects all spiritual communication.
Fluorite Crystal Angels;  Fluorite in flourishes of greens, purples, blues and pinks can be dreamy and hypnotic to behold. One of the master emotional healers,  Fluorite, can stop you giving power to negative thought patterns. Place a piece on the skin around the collar bone or somewhere that will feel comfortable for you, and use surgical tape to keep it in position. Within a short time, the stress-energy fuelling your negative thoughts will dissipate.  Fluorite promotes relaxation and peace of mind. It is a natural healer.
Fluorite Crystal Angels carry the energy of Archangel Gabriel, healing and soothing emotional pain, aiding birthing mothers, lighting the way for lost souls and protecting children. Gabriel is the heavenly messenger who administers to humanity, helping them understand the Divine wisdom and greater plan.
Avalon Stone Crystal Angel; This stone is protective and absorbs negative energies. When travelling/being outside your home, it will protect you from harm, negativity and emotional stress. As the black colour shields one's fears, secrets, insecurities or feelings, Avalon stone makes you aware of the deepest hiding places of your being and brings light into the things you need to work on to move on. When you put light into a dark place, everything lights up.
Avalon Crystal Angels carry the energy of Archangel Michael for his strength and protection of humanity, and Archangel Ariel's name means the lion/lioness of God. Ariel's duties are to protect the earth's natural ecosystems and all life forms. Ariel works with other Archangels when the need arises to save planet Earth and maintain balance by rejuvenating her natural resources. Occasionally she is called upon to assist Raphael with healing.
We add to our Carved Crystal Angels collection whenever the opportunity arises. Angels are closely interwoven into our psyche, with most cultures believing in Divine spiritual intervention from above. Angels bring comfort and healing, with most turning to their guardian angel in times of need. Placing a carved Angel in your home, on your Alter or near your bedside helps reduce stress and anxiety. The fact that there is an Angelic presence close by supports our well-being and can alleviate stress, worry and pain. Many communicate with their Angels daily, asking for support, guidance and strength. Some talk to their Angels daily as you would to a worry doll, while others ask for their angels to draw near. It is in these effortless, elementary, lucid moments that the perfect theta state of being is created, allowing the mind to disengage and free-flowing healing to occur.