Shantilite
This is a very interesting mineral and one that we will here much more about in the future. This is what healers are reporting when using the mineral for healing and the type of clients and customers that gravitate towards it.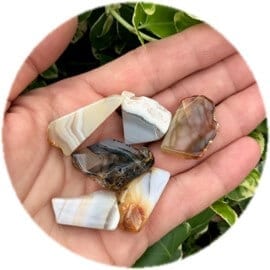 It brings balance to the Earth Star Chakra a few centimetres below the feet for grounding and tethering the physical body. This feels wonderful, like a deep sense of belonging and especially useful when one is spinning out. Good to use for mental stress or mental health issues.
Shantilite is being used in a healing placed between the ankles whilst patient lies on a healing couch for releasing through the Earth Star Chakra pent up or suppressed emotional energy. This would be a great mineral to used on past life regression work to keep the physical body grounded whilst travelling the spiritual realms picking up information on past life issues, relationships and experiences.
This mineral is exceptionally well for empaths in aiding them to remember to put up boundaries and not dwell on destructive negative problems and issues that effect others.