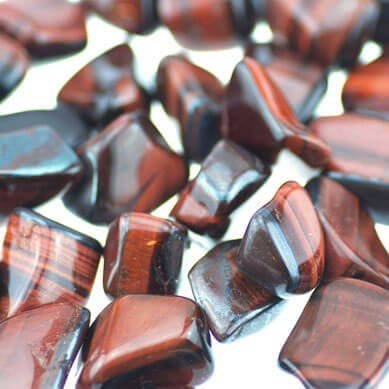 (Red Tigers Eye) Tiger Eye is a member of the Quartz family and usually found in South Africa. It works on balancing the energy of the lower chakras – base, sacral and solar plexus – as well as stimulating the kundalini energy.
Read More
Tiger Eye can be found in a variety of colours and a mix of them, carried in your pocket and tumbled between the fingers during times of stress, has a distinctive calming effect.
Red Tigers Eye works on the lower chakras and stimulates the fight or flight energy. From overcoming difficulties, being called to action or dealing with chaos this mineral is quick to react and deliver. Red Tiger Eye is useful when you are feeling lethargic and need motivation. It can help to speed up a slow metabolism, and used to stimulate sexual interest for those with a low sex drive.
Red Tiger Eye inspires the intellect, pushes the boundaries of 'normal' and overrides instinct. This is good and bad of course because it pushes one out of their comfort zone and allows new experiences to develop organically but can be uncomfortable as this can be out of one's control. Part of this lesson is to learn to let go!