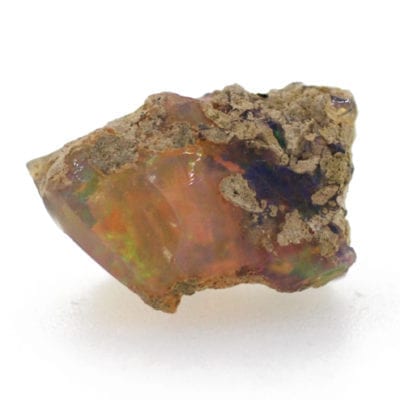 White Opals are used for freedom, independence, psychic awareness, visioning, creativity and seeking ones true self. They are great emotional healers and revellers of prophecy. White Opals are light-bringers.
Read More
Healing properties of White Opals
White Opals are used as shielding stones. They protect the aura, blocking out others negativity. Magically they are used as invisibility crystals. This means that when wearing White Opals, you are not noticed or will come to the attention of anyone you don't wish to.
White Opals absorb thoughts and feeling easily, so they make wonderful crystals for programming. Simply meditating with or magically charging your White Opal (either in ceremony or with intention) can produce a happy, healing, high vibrational energy for the wearer. White Opals carry a memory of ancient wisdom.
Ethiopian Opals
Around the early 1990s in the province of Shewa – Mezezo, an exciting discovery by local villagers unearthed the first documented find of Opals in Ethiopia. The reddish/orange/brown flashes of Opal detected in the dark volcanic rock were the beginning of commercial Opal mining in Ethiopia.
Later in 2008, White Opals were found close by in the province of Wollo, and these have gone on to put Ethiopia on the gemstone hunters map. The delicacy and colour flashes in White Opals have made them very sort after and collectable.
White Opals are hydrophane Opals. They are light, vivacious, lively and very colourful but not as stable as sedimentary Opal.
The magical white Ethiopian Opals are treasured for the pin flare fireworks portrayed within them. It is said that white Opals can reveal the entire matrix of our universe.
It has taken thousands of year's for precious seasonal rains to leach minuscule silica particles from the sandstone down into the volcanic fumaroles and fissures. Over time these deposits are compressed into a lattice of dry, tightly packed layers. When light penetrates the translucent or semi-translucent gemstone, the play of colour set against a white/grey background explodes into a kaleidoscope of brilliant colours.
Chemical makeup
The formula on the periodic table is SiO2.nH2O and is a Hydrated Silica. White Opal does not have a crystalline structure and contains a variable amount of water. The water content can be between 5-10% or more.
Interesting Facts
Opal is the birthstone relating to October and the star signs of Libra and Scorpio.