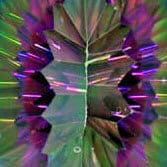 Mystic Topaz is a little fire cracker for relationships. It is the seductress, the siren, the enchantress and the 'femme fatale' all rolled into one. It is hardly any wonder that it has become the number one crystal jewellery gift brought for girlfriends, lovers and wives.
Read More
Mystic Topaz is playful and full of fun. It encourages role play and a whole lot more. Everyone loves Mystic Topaz.
Mystic Topaz can be a clear Topaz, or more recently a Brazilian Quartz, that due to a relatively modern piece of technology has a fine vapour of titanium laid over it by a process called 'chemical vapours disposition'. This enhances the crystal making it look mysterious and magical, which of course it is.
The combination of the Titanium over the Topaz or Quartz brings added qualities to the gem stone making it a powerful aphrodisiac and in the hands of a professional totally irresistible. Worn as jewellery one can not help but be noticed, it screams attention and gets it.
Some say it is the crystal of Leo's or Scorpio's as it carries the traits of these star signs. That said if one is requiring those qualities of confidence, being centre of attention and a wild insatiable sex drive this is the crystal to wear!