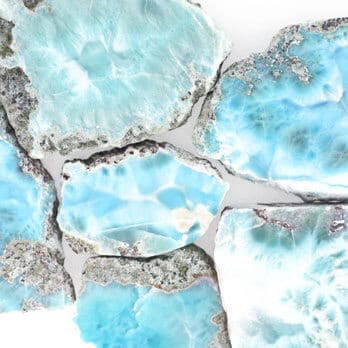 Larimar is also known as the Dolphin Stone, the Goddess Stone, Atlantis Stone, (Blue Pectolite) and is found in one location in the world, on the island of Hispaniola in the Dominican Republic in the Caribbean Sea. It is said that this stone carries the energy of the Goddess in her many forms, from high up in the sky down into the deepest sea.
Read More
This divine feminine energy soothes, heals, transforms and gives life. It gives life to not just children but ideas, notions and voice. This stone breaks down barriers, smashes blockages and patterns and then re-creates them better, stronger and faster. It is worn as jewellery on the throat chakra and higher heart chakra. It is effective for communicating your truth. Heals emotional pain fast. Expresses itself creatively through the wearer's ability to channel communication and accomplish the soul's path and purpose with mindfulness.  These incredible minerals instil a sense of peace in one's home bringing a sense of calm and love. They are used for 'cellular cleansing' and help us to believe in ourselves, ridding us of guilt or frustrations locked in the memory. They are gentle enough to be used in a nursery to calm a stressful child. Place some on a shelf in the room, out of reach, and do not allow dust to gather on them.  Alternatively hang a piece above the crib or bed.
It is an incredible asset for meditation particularly if you sit on a blue floor, cloth or cushion.  This surrounds you with the higher vibrational colour of the angels. Hold your Larimar against your skin. Some have found whilst meditating with Larimar they feel the urge to sing, to let energy out gently and calmly. The voice of the Dolphin comes through and causes deep healing to take place. I have noticed more and more female healers using this method with sound healing and Larimar intuitively.